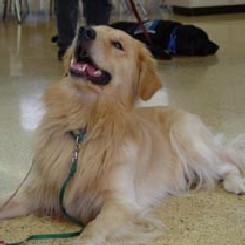 "Patrick"
Amberlane Sandyhill Irish Legend, CGC, AAA-CR
<![if !vml]>

<![endif]>
The American Kennel Club Awards for Canine Excellence (ACE) 2007 - Honorable Mention

Patrick is a male Golden Retriever, born St. Patrick's Eve (March 16) in the year 2000. He is one of nine puppies by Champion Amberglo's Christmas Carol and Amberglo's Blue Skye at Sandyhill, experienced pet therapy parents. Patrick's birth and development were documented by a Clark, NJ, Middle School student for a Spring 2000 term paper, which was awarded a grade of A+. As a young Irish lad, he proudly wears the green (leash and collar); he truly likes the girls (Goldens, Dobermans, etc.), and is a wee bit overly fond of the liquid (water, rivers, lakes, and such). In addition to swimming, he also enjoys biking, hiking and barking as extra curricular activities.
Patrick began his Animal Assisted Therapy training and visiting at 12 weeks of age. He passed his CGC (Canine Good Citizen) and Temperament Test in June 2000 at 6 months of age. Patrick is currently certified with TheraPet for AAA/AAT-Crisis Response. Patrick and his mother shared visits to patients of the Ashbrook Nursing Home in Scotch Plains, NJ and are now visiting at Cornell Hall in Roselle Park, New Jersey. Patrick makes special visits to other facilities, institutions, organizations and is available for speaking engagements and educational presentations. Patrick is always accompanied by his human Mom. He gets to look good and collect hugs, while Mom does the talking.
Special Accomplishments
·
NJ Veterinary Foundation - 2002
Patrick was placed in the Foundation's Hall of Fame Special Recognition category for his extensive work at Pier 94 in New York City after the 9/11 tragedy. He was the youngest dog to work at the Pier. Patrick also participated in the November, 2001 Memorial Service presentation of urns and flags to the 9/11 victim's families.
·
Media honors - 2001-2002
Ø
in the December/January issue of Golden Retriever News in an article entitled "Paws Amidst Pain" focusing on his 9/11 work;
Ø
on the cover of the 2002 Golden Retriever Calendar Deluxe Edition and again in the 2003 Deluxe Edition calendar
(Browntrout.com);
Ø
in the 2002 & 2003 revised issue of the Golden Retriever Magazine (
see PETCO
)
Ø
in the 2002 Paw Prints Golden Retriever Calendar
(both Adult and Puppy issues)
for February and April;.
Ø
He has been a guest on Dr. Brian Voynick's television show, "Pet Stop" on NJN.
Ø
Photographed for Dogs in Service posters and book by renowned ASPCA artist Ron Burns.
Other Activities
Patrick has experience working with children at:
§
Pier 94, Family Assistance Center, NY, NY - 2001-2002
§
St. Patrick's Day Parade, Woodbridge, NJ - 2001-2002-2004
§
Clark Street Fair, Clark, NJ - 2001-2002
§
Bonnie Brae Scottish Festival, Lyons, NJ - 2000-2001-2002-2003
§
Rahway Girl Scout troop 2003
§
Fort Lee Children's Library 2003
§
Sylvan Passaic Child Development 2003
§
Prime Time Learning Center, Paramus 2004
§
PAWS,
Preventing Abuse within Survivors ( by Social Action Project-Institute for Women's Leadership, Rutgers University).
§
ROCK
program (Reading Outloud Creates Knowledge) at Middle School and at Robert Gordon School, Roselle Park 2005-2006
§
7th Grade Talented and Gifted, (NJVM Grant) Middle School, Roselle Park 2006
§
Robert Gordon School's third graders, Roselle Park 2006
.(NJVM Grant)
§
Henry Inman Library Reading Program, Colonia, NJ 2005-2006
§
He has trained for: Flyball, Agility, RallyO and Obedience as well as participating in Breed Conformation shows.
<![if !vml]>

<![endif]>
Owned, bred and loved by: Elaine Shoe-Ezell, 303 West Webster Avenue, Roselle Park, NJ 07204 (908)245-9098 or cell (732)-687-1687)
PO Box 787, Clark, NJ 07066 (732) 602-1112
info@therapet-inc.com
www.therapet-inc.com